Quick Search

Charge Plate Monitors
Charge Plate Monitors
Electrostatic
Measurement
and ESD Products
To get pricing please e-mail: sales@bomir.com
288B
Charge Plate Monitor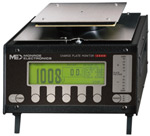 Model 288B is the first charged-plate monitor offering on-board data storage to automate ionization system testing. Use the Model 288B to perform the customary manual tests, or program it to perform a series of automated decay and balance tests. Soft keys simplify the programming and operation of automated tests. Upload test set-ups and ionizer locations. Download stored test results, including environmental data captured by integral temperature and relative humidity sensors.
The Model 288B uses a novel voltage-follower measurement technique to increase stability, bandwidth, and accuracy, making it ideal for testing the most modern critical-balance ionizers.
NEW

Auto Ranging to 0.1V resolution below 100V

NEW

Compatible with Monroes New 288B Graphing Software
Test all types of Ionizers
Automated testing reduces ionizer test time and data logging time
Adjustable start and stop voltages for decay test accommodate specialized needs
Large, easy-to-read, high-contrast LCD display
Detachable ion collecting plates can be placed at the work height or placed within process equipment to evaluate ionizers while in use
Small ion collecting plates are available to permit measurements in confined spaces
LED bar graph shows balance voltage in real time
APNOTE: Balancing of Pulsed DC Air Ionizers Made Quick and Easy PC
Software Download (Version 2.01)
PC Software Operators Guide PDF
Accessories
| Model No. | Description |
| --- | --- |
| 288/22G | Ionization Plate 1" x 1" |
| 288/80 | Carrying Case |
| 9940001 | 5ft. Extension Cable |
| 80207 | 288B Graphing Software |
268A
Charged Plate Analyzer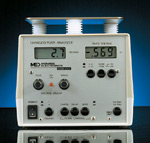 268A-1T
Charged Plate Analyzer with Adjustable Timer Option
The Model 268A is the most affordable charged-plate monitor available. It is suited to test all types of ionization systems according to ESD Association standard S3.1. It features 1 kV and 5 kV charging ranges for testing ionization systems or for testing ESD control materials. It's ability to display peak positive and negative offset voltage swings make it the ideal tool to quickly and accurately balance pulsed-DC ionization systems. The detachable ion collecting plate can be placed at the work height or placed within process equipment to evaluate ionizers while in use.
Model 268A-1T incorporates an adjustable stop voltage for decay tests to accommodate specialized needs. This option allows the user to set the timer stop voltage at any level from 0 V to 1000 V.
287A
Ionizer Performance Analyzer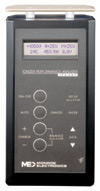 The Model 287A is a low-cost and highly portable alternative to a charged-plate monitor for periodic verification of ionzer performance. It permits ionizer testing at the work location without the need to remove the ionizer from service for testing.
Manual or automated tests
Optional 6-inch plate attachment (Model 287/22C) achieves 1:1 correspondence with standard charged-plate monitor test results
Saves the test results for ten manual tests or ten automated test sequences including environmental data
Integral temperature and relative humidity sensors to capture environmental data during test
Test results correlate to standard tests performed using a charged-plate monitor in accordance with ESD Association standard S3.1
Intergrates decay timer lacking in ionizer test kits for fieldmeters
Accessories

| Model No. | Description |
| --- | --- |
| 287/22C | 6x6" Adapter Plate |
282cps
Charge Plate System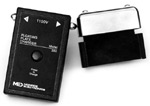 Increase the utility of your Monroe Electronics Model 282 Electrostatic Fieldmeter by adding the 282CPS. The Model 282CPS Charge Plate System is an accessory for the Model 282 Fieldmeter that permits the Model 282 to measure ionizer performance. The 282CPS includes a charge plate attachment for the fieldmeter and a charging source to charge the plate attachment. The fieldmeter then measures the plate voltage during balance and decay tests.
Lowest-cost test method for periodic verification of ionizers
Correlates closely to charged-plate monitor test results
Performs both positive and negative decay tests
Also works with Model 281