Quick Search

Other ESD Instruments
Other ESD Instruments
Electrostatic
Measurement
and ESD Products
To get pricing please e-mail: sales@bomir.com
284
NanoCoulomb Meter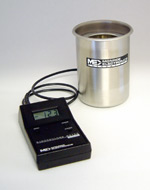 The Model 284 NanoCoulomb Meter directly measures electrostatic charge on conductive, dissipative, or insulative objects. Model 284 is ideal for testing items, such as ESD packaging, populated PC boards, disk drive components, and electronic devices, according to industry standards and test methods that require charge measurements, such as ANSI/ESD S541 and SEMI E78.
Measure charges on isolated conductors by direct contact using a point contact probe (sold separately). Measure charges on all types of objects by placing the charged object in a Faraday cup (sold separately), which is connected to the meter input. Two interchangeable standard sizes of Faraday cups serve most needs. The inner dimensions of these are 2-5/8" dia. x 2-¾" deep and 5-¾" dia. x 7" deep. Custom sizes are available on special order
Simple to operate
Portable, self-contained, battery operated
Two measurement ranges (20 nC and 200 nC)
Resolves 0.1 nC
Accessories
Model No.
Description
284/22A
2 5/8" Diameter Faraday Cup
284/22B
6" Diameter Faraday Cup
Optional Range 200,20,2
Optional Range 2000, 200, 20
1P20B
Test Probe for Model 284
285
NanoAmmeter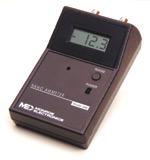 Model 285 is a precision, portable nanoammeter for use where low-current measurements are required. Perform low-current measurements without the expense or complexity associated with conventional electrometers. The Model 285 features three convenient measurement ranges (2 nA, 20 nA, and 200 nA) and resolves currents as low as 1 pA.
275A
Ground System Tester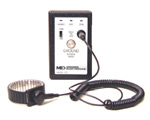 The Model 275A measures the resistance of personnel grounding systems (wrist straps and heel straps) and work area grounding systems (table mats and floor mats), and indicates if the resistance is high (open), low (hazard), or within acceptable limits to control damage to sensitive components due to electrostatic discharges. Testing is as easy as pushing the test button and observing the color-coded indicator lights. The safe operating limit can be set at 10M or 100M ohms using a switch on the front of the instrument. The instrument is supplied with a ground cord. An optional leather carrying case is available.
Part Number
Description
Price
USD
Optional accessories
NC-10
Output controller, built in compressor, without air flow control
NC-10F
Output controller, external gas supply, foot on/off switch
NC-10S
Output controller, external gas supply, without on/off switch
NC-15
Output controller, built in compressor, without air flow control
RX-70GASPH
Antistatic soldering iron unit for RX-711ASPH
PX-60RT Tips
PX-60RT-1.6D
Replacement tip
PX-60RT-1C
Replacement tip
PX-60RT-2.4D
Replacement tip
PX-60RT-2C
Replacement tip
PX-60RT-3.2D
Replacement tip
PX-60RT-3C
Replacement tip
PX-60RT-4C
Replacement tip
PX-60RT-5K
Replacement tip
PX-60RT-B
Replacement tip
PX-60RT-LB
Replacement tip
PX-60RT-SB
Replacement tip
XRX-60LB
Long, Fine Tip
XRX-CUP
Cup Tip