Quick Search

ESD Utility Cart - ATR-1
| | |
| --- | --- |
| | ESD Utility Cart ATR-1 |
Utility Cart ATR-1 Trolley is designed to prepare and transport equipment, parts etc. to the assembly area.
Makes a convenient mobile work surface for folding, sorting or repairs.

large, non-marking ESD casters.
Convenient handle to pull or push
ESD non-burn rubber mat surface

Epoxy powder coated steel.
ESD Safe.
Top covered with ESD, two layer rubber mat.
Two shelves.
Convenient handle for pushing or pulling.

more info
Dimensions
24.4" L x 24.4" W x 27.6" H
(600 L x 600 W x 700 H mm)
Load capacity
400 lb.
(150 Kg).


ATR-1 Series ESD Carts                                                              www.ESDcarts.net  
                                Catalog Number:   ATR-1                                              ATR-MS – Optional middle shelf for  ATR-1   
ESD Cart on no marking ESD wheels. Top shelf covered with no-burn ESD rubber mat.
Catalog Number for three level cart:    ATR-1M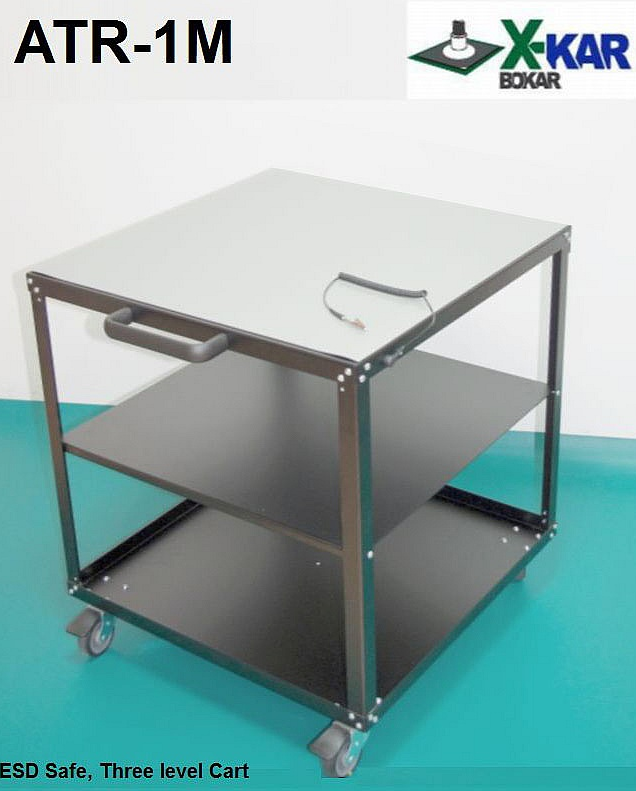 There is also custom version of this cart with the top shelf extended by 12 cm (~ 5") to accommodate our X-Reflow306 Series ovens.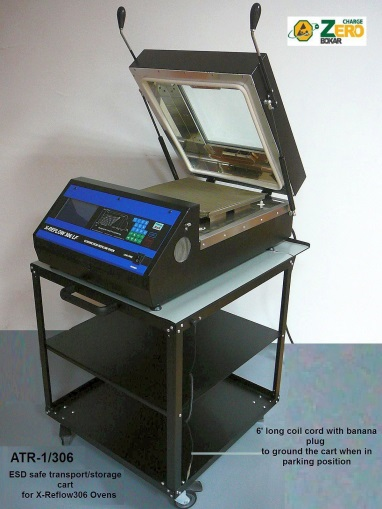 Catalog Number for the extended top shelf cart:   ATR-1/306  
ATR-1R ESD Safe Utility Cart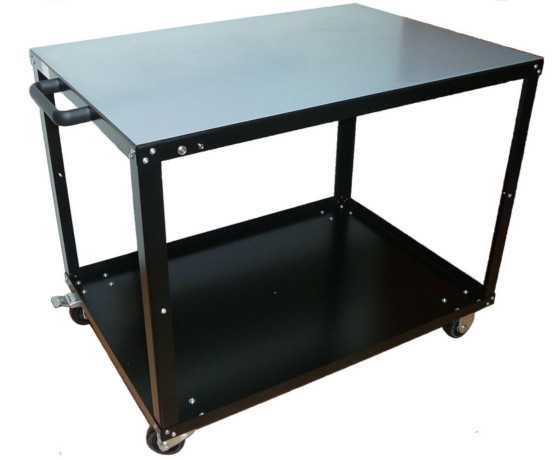 Technical specifications:
Dimensions: 850mm x 600mm x 700mm (Length x Width x Height)
Load Capacity:  400Lbs (185Kgs)
Part Number
Description
Price
USD
ATR-1
ESD Utility Cart. Conductive, no marking wheels. Top shelf finish: ESD, two layer non burn rubber mat. Static discharge to the ESD floor through the wheels is guaranteed for each unit. All metal. Can't be damaged by molten solder or high temperatures.
<...more info

| | | |
| --- | --- | --- |
| Qty | 1 - 19 | 20 + |
| Price | $579.90 | $539.90 |

ATR-1/306
ESD Cart for X-Reflow 306 Ovens. Conductive, no marking wheels. Top shelf finish: ESD, two layer non burn rubber mat. Extended top shelf with an overhang at the back. Middle shelf to accomodate oven accessories, profilers etc. Grounding wire included.
ATR-1M
ESD Utility Cart. Conductive, no marking wheels. Top shelf finish: ESD, two layer non burn rubber mat. Model ATR-1M has an extra middle shelf. Otherwise, same performance as ATR-1.
<...more info

| | | |
| --- | --- | --- |
| Qty | 1 - 19 | 20 + |
| Price | $589.90 | $549.90 |

ATR-1R
ESD Safe Utility Cart. The largest available from the ZeroCharge brand. Top shelf finish: Anti-static two layer non burn rubber mat. Same performance as ATR-1
<...more info

| | | |
| --- | --- | --- |
| Qty | 1 - 19 | 20 + |
| Price | $639.90 | $609.90 |

ATR-MS
Middle shelf for ATR/306 and ATR-1 Carts
<...more info