Quick Search

SMT-ServiCE
SMT-ServiCE - Digital PID Control SMT
Rework/Repair Unit with integrated Preheater
Not Matched by any other system in the industry
SMT-ServiCE is a Unique Digital PID Control SMT Rework/Repair Unit with integrated Pre-heater, which offers precise and accurate monitoring of process temperatures at a working point on a PCB. Also, allows pre-setting of exact temperature of air stream at the end of Hot Air Pencil Nozzle and at a tip of Soldering Iron. The accuracy is achieved by a unique feature, user-adjustable offset, which compensates for differences in PCBs' being reworked (dual or multi-layer, high and low mass) in case of pre-heater settings. The off-set for soldering iron tip and hot air stream temperature settings allows for accurate compensation when changing tips or nozzles.
The unique, high performance of the unit is possible due to use of the newest microprocessor technology and thorough programming of all control and monitoring functions combined with PID temperature control of all heaters.
System Features:
Very quiet operation and at the same time the most powerful and highest precision unit on the market in its class.
Accurate and precise temperature settings and monitoring at the working point on the board:

State of the art microprocessor technology, thorough programming, digital compensation of sensors' non-linearity and heat loss at different temperatures.
PID control of all heaters (

accuracy and extended heaters' life

)
User-adjustable offsets for pre-heater and soldering tools.
Digital display of settings and actual parameters on front panels.

Programmable temperature settings.
Repeatability of the process from board to board (digital storage of parameters' settings).
Compatible with all X-KAR Brand board holders.
Compatible with all XK-Series Tool Holders.
Ease of use. Actual temperatures displayed on the front panel.
Fully antistatic. Supplied with ESD grounding wire and a wrist strap.
Built-in Hot Air Pencil/Iron and Vacuum Pick-up Tool.
Self containing air and vacuum sources.
Solid and strong metal (not plastic) construction guaranteeing long service life.
Built-in "K" TC meter for use with external thermocouple for instant verification of temperatures at any place during the rework process.
System Includes:
SMT-ServiCE Base Unit with power cord
XHP-10 Hot air pencil with XHP-NS1 nozzle set
XST- 77 Tool Stand/Storage for XHP-10 accessories
XVP-10 Vacuum Pick up pencil with XVP-NS2 Probe Kit
XTH-10 Vacuum Pick-up Pencil Holder
AS3-B ESD grounding cord
AML-301A Adjustable wrist strap, blue, 4mm snap, coil cord 6ft
Power cord
| | |
| --- | --- |
| | |
| XHP-10 | XVP-10 |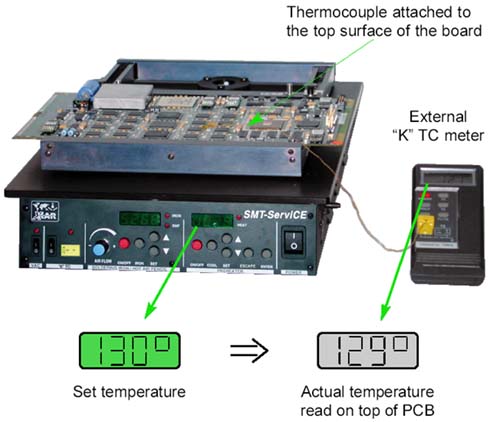 Unique offset feature, which allows precise setting of PCB temperature
Note: Precise temperature setting on PCB is also a function of preheat time. Offset is set experimentally for a defined preheat time e.g. 2 min, 3 min etc.
System Description
The SMT-ServiCE was primarily designed for SMT Rework and Repair of the printed circuit board assemblies using SMT components. The emphasis of the design was on observation of appropriate process control required for correct Rework and Repair.
This includes protection of the boards (and the vias inside them) against sudden thermal shock to prevent difficult to detect damages as well as components themselves, which are already connected to the board.
Bottom convection pre-heat of the large area of the board guarantees even and gradual thermal expansion. Pre-heated board to e.g. 130 degrees C, needs much less thermal energy to de-solder or re-solder a component on the board. To de-solder the component only 53 degrees C are needed (183 deg., which is melting temperature of the solder minus 130 deg. which the board is pre-heated to by the bottom pre-heater).
To achieve this relatively low temperature differential, lower thermal capacity and lower air temperature tool can be used, which guarantees safer for the board and the components rework process. This lower temperature differential required to obtain solder melting point makes the rework process much faster than the one, which is done when using conventional rework tools.
For your convenience and to save the valuable bench space the system includes in one Base a Pre-heater, a Hot air Tool and a Vacuum Pick up Pencil, giving you all what you need to Rework or Repair most of the SMT Technology Boards. Standard board holder XU-1S allows you to mount 12" (305mm) wide x not limited in length boards. Other, optional board holders are available to accommodate boards up to 21.5" wide. Available models are: XU-5, XU-Mini, XCBH-1, XU-1, XU-2 and XU-3.
The powerful Pre-heater will also allow you to rework high mass boards, which have through-hole components like connectors etc. (you must use proper pre-heat temperature, which is lower than the maximum allowable value for the plastic from which your connectors are made).
Both Pre-heater and Hot air Tool have close loop temperature control and maintain the setting temperatures with high accuracy. The Vacuum pick up tool uses the top of the line vacuum pump to give reliable and consistent operation by maintaining high vacuum at wide range of supply voltage and frequency fluctuations.
The system can accommodate optional tool stand with adjustable Z-Axis control (if this is your preference for 4 sided components rework). The stand holds an XHT Series Hot Air Tool in a vertical position for precise component removal and installation operations. The hot air tool is held vertically to the work platform of a base and bottom edges of any nozzle mounted on the tool are horizontal to a PCB, which is in a board holder placed on the work platform.
The System also accommodates Semi Automatic Vacuum Component Pick-up Option XCP-01 which attaches to the System for automatic component lift upon reflow of the solder.
Technical Specification:
Overall System:
Input Voltages
110-120, 220-240V AC
Power Consumption
Max. 1200VA
Weight
5.5 kg (12 Ibs.)
System dimensions
487x328x88mm
19.1" x 12.9" x 3.5"
Packaged weight
11.3 kg (25 lbs)
Pre-heater Section:
Max. Power
1050 VA
Preheat Temperature measured on a PCB
140-302 °F (60 -150 °C)
Preheat area
More than 8" square
Average PCB preheat
time to 150 deg C
Less than 2 min.
Hot Air Pencil:
Input Voltage
24V AC
Power Consumption
80 VA
Temperature Range
392 - 878 °F (200 - 470 °C)
Air Source
High efficiency diaphragm pump
Air Flow
.5 - 4.5 l/min
Hand piece weight
50g (.11 Ibs.) w/o cord
Air Nozzles Kit
3 standard nozzles (XN-2, XN-3 and XN-6)
Hot Air Iron:
Input Voltage
24V AC
Power Consumption
60 VA
Temperature Range
347 - 788 °F (175 - 420 °C)
Hand piece weight
50g (.11 Ibs.) w/o cord
Vacuum Pick-Up:
Vacuum source
High efficiency diaphragm pump
Vacuum
8" Hg (200mmHg)
Hand piece
Slim, Light weight and ESD safe
Vacuum Probe Kit
3 probes and 3 ESD cups
"K" TC Range
77-1112 °F (25-600 °C)
Optional Equipment:

XPX Series Tips

- Tips for XSI-10 Soldering Iron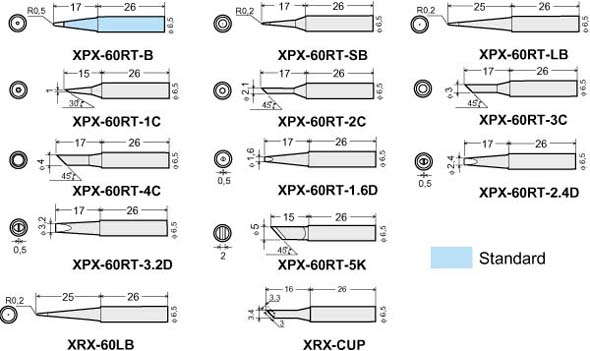 XH Nozzles

- Nozzles for XHP-10 Hot Air Pencil
| | | |
| --- | --- | --- |
| | | |
| XN-1 | XN-2 | XN-3 |
| | | |
| XN-4 | XN-5 | XN-6 |
| | | |
| XN-7 | XN-8 | XN-9 |
| | |
| --- | --- |
| | Nozzles contain in XHP-NS1 Nozzle Set |
XOPR-1 Bottom Heater Opening Reducer
Convenient when re-working small boards e.g. cellular phones
Additional products enhancing the use of the SMT-ServiCE convection rework unit
XU-5 Open Frame Board Holder with X-Y micrometer positioning for PCB fine adjustment.
XU-Mini Irregular Shape PCB Holder (e.g. Cellular Phone)
XK-Series Tool Stands with X-Y and theta Adjustment of Hot Air Tool.
XCP-01 Semi-Automatic Vacuum Pick-up conveniently lifts the component upon re-flow of solder during de-soldering of SMT components.
X-Wick - 2.6mm wick with wick dispenser
MP-10K - Hand held Paste and Flux Dispenser Kit
MP-1-XX - Flux Dispensing Kits
Part Number
Description
Price
USD
Optional Equipment
XSI-10
Soldering Iron for SMT-ServiCE and XHP-200
XOPR-1
Bottom Heater Stainless Steel Opening Reducer
SMT-ServiCE
SMT-ServiCE -115V
Digital PID Control SMT Rework/Repair Unit with integrated Preheater and built-in TC meter , 110-120V AC
<...more info
SMT-ServiCE -230V
Digital PID Control SMT Rework/Repair Unit with integrated Preheater and built-in TC meter , 220-230V AC
<...more info
Get quote
SMT-ServiCE-De-Lux -115V
Digital SMT Rework System with total Process Control with ESD Fiberglass Top , 110-120V AC
<...more info
SMT-ServiCE-De-Lux -230V
Digital SMT Rework System with total Process Control with ESD Fiberglass Top , 220-240V AC
<...more info
Get quote
XH Nozzles
XHP-NS1
Hot Air Pencil Nozzle Set (Includes nozzles: XN-2, XN-3, XN-6)
XN-1
Hot Air Pencil Nozzle #1
XN-2
Hot Air Pencil Nozzle #2
XN-3
Hot Air Pencil Nozzle #3
XN-4
Hot Air Pencil Nozzle #4
XN-5
Hot Air Pencil Nozzle #5
XN-6
Hot Air Pencil Nozzle #6
XN-7
Hot Air Pencil Nozzle #7
XN-8
Hot Air Pencil Nozzle #8
XN-9
Hot Air Pencil Nozzle #9
XPX-60RT Tips
XPX-60RT-1.6D
Tip for XSI-10
XPX-60RT-1C
Tip for XSI-10
XPX-60RT-2.4D
Tip for XSI-10
XPX-60RT-2C
Tip for XSI-10
XPX-60RT-3.2D
Tip for XSI-10
XPX-60RT-3C
Tip for XSI-10
XPX-60RT-4C
Tip for XSI-10
XPX-60RT-5K
Tip for XSI-10
XPX-60RT-B
Tip for XSI-10
XPX-60RT-LB
Tip for XSI-10
XPX-60RT-SB
Tip for XSI-10
XRX-60LB
Long, Fine Tip
XRX-CUP
Cup Tip
Get quote - Special Order. Please e-mail or fax at 570.842.4290 for pricing.