Quick Search

| | |
| --- | --- |
| PAC-8 | Pinpoint Air Controller |
Slash your air consumption by 60%!
Connect PAC-8 to ionizers to eliminate dust and static efficiently with pulse air.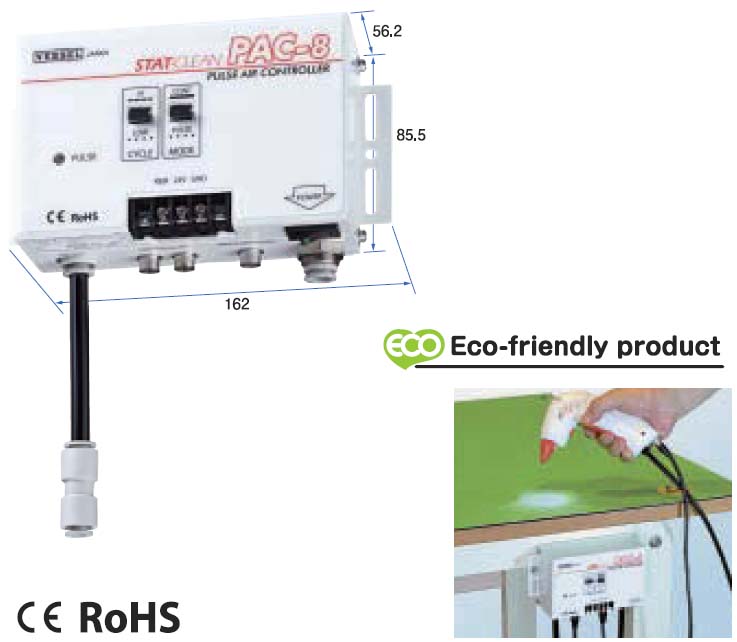 Pulse module reduces air consumption by 60% compared to continuous mode operation.
Bursts of vibrate dust and forcibly dislodge it.
Can be used in conjunction with bar- and nozzle-type ionizers as well as other equipment.

Static erasing benefits:
Dust adheres to the surface as a result of static electricity buildup and becomes embedded in depressions on the surface, making it difficult to dislodge.
An intermittent stream of ionized air can be used to vibrate the dust, neutralize its static charge as it floats above the surface, and then blow it quickly away.

Pulse benefits:
Compressed air is released and sprayed under pressure when the solenoid valve opens. By repeatedly applying the resulting force (in the form of a shock wave), dust can be removed more effectively than is possible with normal compressed air.
Technical Specification
Power supply and
current consumption
24 VDC ± 5%, 70 mA (PAC-8 only)
Weight
610 g
Air supply hose diameter
8 mm x 6 mm
Airflow
See chart to below.
Output power supply
24 VDC ± 5%, 680 mA (when connected to separately available AD24-ITC-E)
Operating temperature and humidity
5 - 35 °C / 35 - 85%RH (non-condensing, non-freezing)
Accessories
Instruction manual, 8 mm / 6 mm conversion plug,
8 mm air horse (100 mm long)
Airflow
| | | | | | | |
| --- | --- | --- | --- | --- | --- | --- |
| Pressure (MPa) | 0.1 | 0.2 | 0.3 | 0.4 | 0.5 | 0.6 |
| Continuous mode (L/min) | 125 | 232 | 330 | 461 | 567 | 572 |
| Pulse mode (L/min) | 50 | 92.8 | 132 | 184.4 | 226.8 | 228.8 |
* Air consumption figures for pulse mode are theoretical values and do not include the losses that occur while the solenoid valve is opening and closing.
Example Connection
PAC-8
G-7R
LED lights up in orange while the unit is in operation.
(Pulse mode: Blinking
Continuous mode: Lit continuously)
Terminal block for N-2 or B-series.
Power output for G7R-E
Includes LED illumination to make dust visible
Operating and high-voltage malfunction alarm LEDs are locate on both slides of the grip.
Continuous/Pulse mode selector
Pulse cycle selector
Power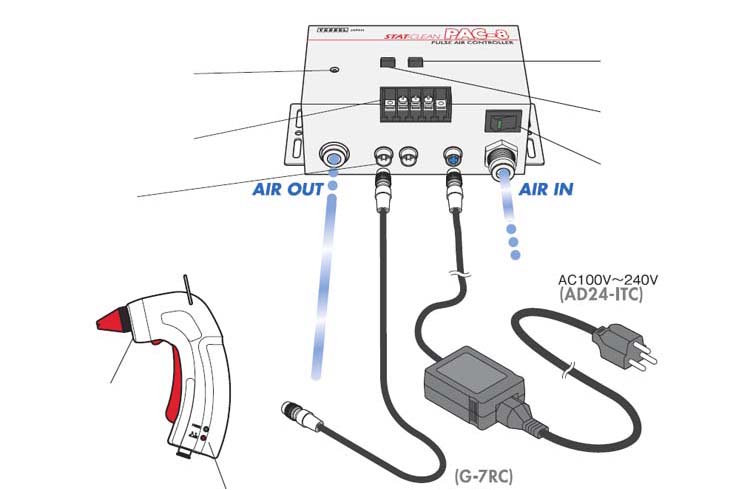 Safe design features a built-in piezoelectric transformer.
Compact, lightweight plastic body.
Robotic cables are engineered to withstand being flexed 10 million times.
CE/RoHS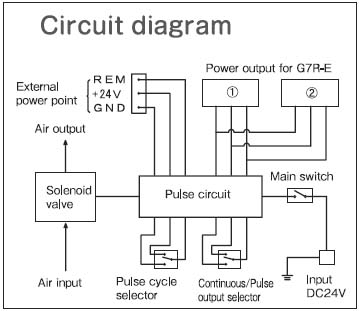 The PAC-8 Pulse Air Controller can be connected to other ionizers and air devices.
Bar-type ionizer
When using intermittent air, set to 0.2 MPa or lower.
Do not supply power from the PAC-8 as ion generation on some models may by subject to a delay.

Nozzle-type ionizer
The air stream can be toggled on and off in response to the presence of work on a conveyor belt by supply 24 VDC power from the PAC-8 and using the remote terminal.

Air duster
Install so that the power supply is turned off when not blowing air by using a foot switch
or other hardware with the remote terminal.