Quick Search

AURORA
AURORA
Slip Resistant, Gloss Restoring Cleaner

Product #71
PRODUCT DESCRIPTION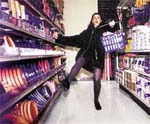 An advanced formula, utilizing metal-free polymer technology, has allowed the development of this specially formulated, one-step gloss and slip resistance enhancing cleaner/maintainer. Aurora cleans and restores the gloss of a variety of floor surfaces including vinyl tile, synthetic sports flooring, marble, terazzo, polished stones and sealed wood. Aurora can be applied with either a mop or automatic scrubber and will not cause a buildup with routine use. Field use has produced an average increase in slip resistance of .1 SCOF per application.
APPLICATION & MAINTENANCE
Thoroughly sweep the floor to remove any dirt or soil.
Floors with heavy concentrations of oil, grease, or animal protein soils should initially be cleaned with a degreaser to obtain optimum results.
Dilute Aurora up to 4 to 6 ounces per gallon with warm water.
Aurora may be applied using either a mop and wringer bucket or automatic scrubber. A two bucket system, in which one bucket holds the solution Aurora and one into which the soiled solution is wrung, will provide the most satisfactory results. Damp mop the floor using a clean cotton or cotton/synthetic combination mop. For use in an automatic scrubber, place the Aurora solution in the feed tank of the automatic scrubber. The solution may be applied, scrubbed, and vacuumed in one step. Following damp mopping or scrubbing, allow the floor to dry completely, but do not rinse.
To restore gloss or repair scuffs, buff the treated area with an appropriate buffing pad, or brush with either a low or high speed buffing machine.
SPECIFICATIONS
| | |
| --- | --- |
| Active Ingredients | Synthetic and Alkaline Detergents, Slip Resistant Additive |
| pH | 8.7 - 9.5 |
| Free Ammonia | None |
| Free Alkali | None |
| Free Acid | None |
| Phosphates | None |
| Abrasives | None |
| Color | Blue |
| Odor | Moderate |
| Solubility in Water | Complete |
| Freeze/Thaw Stability | Minimum 3 cycles |
| Shelf Life | 1 year minimum at room temperature |
| Flash Point | >220 °F |
| Weight Per Gallon | 8.5 lbs |
| Biodegradable | Yes |
| Soil Suspension | Excellent |
SAFETY INFORMATION
| | |
| --- | --- |
| Health | 1 |
| Flammability | 0 |
| Reactivity | 0 |
| Personal Protection | B |
Aurora is not a hazardous mixture as defined in 29 CFR 1910.1200 and M.G.L. c. 111f. Safety Glasses and Gloves should be worn during application. CAUTION: Contains Glycol Ethers. Can cause eye irritation. Prolonged exposure may cause skin irritation. FIRST AID: In case of contact, flush with plenty of water. If swallowed, get immediate medical attention. Consult Material Safety Data Sheet before using.