Quick Search

3F-12
STATIC ERASER TOP-FAN
Triple fan can do more
Featuring excellent ion balance and the fastest static elimination
Ion balance ±5V, Powerful three fans promise a uniquely wide static-free area

Complete with most advanced functions
Highly reliable piezoelectric transformer system provides stable ion balance.
Its new electrode-unit plate with capacity coupling mechanism realizes maximally stable ion balance ±5V.
The fan speed can be controlled by the step-less adjustment dial. Silent (53dB at max. fan blow).
Triple 120 mm square high-power DC fans with two straight blowing front covers and ion diffusion front covers efficiently deliver ionized air to the target area.
Equipped with a DC 24V / 300mA extra outlet
Operating switches and LED indicators on the top
Clean power supply indicator and warning LED lamps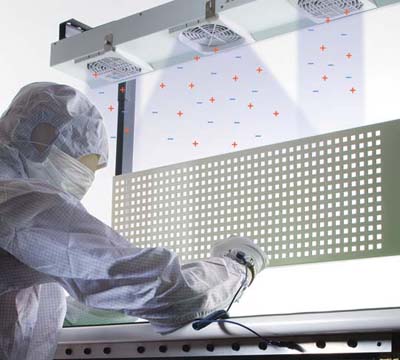 Designed for safety and easy maintenance
With 24V power supply, possibility of electric leakage or interference on other devices is kept minimum.
LED light warns and protects against abnormally high voltage and fan stoppage. These warnings cad also be transmitted to external devices.
The protective cove opens and closes with one touch making it easy to access the internal parts. The power will automatically be turned off when the front cover is opened.
Needle electrode units can be easily detached for easy maintenance and cleaning.
Technical Specification
Model
3F-12
Ion generation method
High voltage DC corona discharge
Output voltage
AC2.4kV
Input voltage
DC24V ± 5%
Power consumption
1200mA (max.)
Dimensions
H182×W910×D100 mm (including the stand)
Weight
5.3 kg
Maximum fan speed
3.4 m3/min (measured 1 m from device at max. airflow)
Noise emission
53dB(B) Max. fan speed (Measured at 1m)
Ozone generation
0.05ppm or less (Measured at 50mm)
Working ambient Temperature/humidity
5 - 40 °C / 35 - 65%RH (No dewing)
Distance from target area
150 - 900mm
Accessories
Adapter No. AD24-IT19
Straight Blower Fron Cover
Ion Diffusion Front Cover
Decay time
Refer to the items in the performance chart
Ion balance
Within ±5V (At 300mm)
Static erasing performance
Ion balance: Within ±5 V; Decay time: 1.8 sec or less
Static erasing area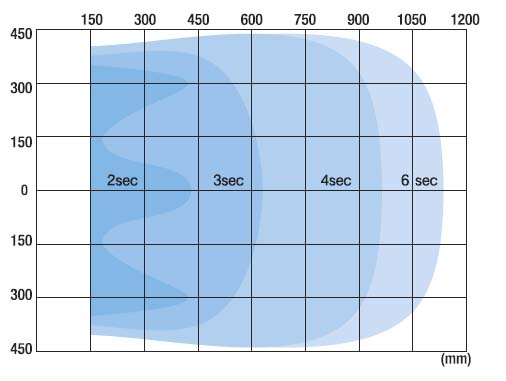 Accessories
Power Supply Transformer


AD24-IT19

Input: 100 to 240 VAC, 1.2 A
Output: 24 VDC, 1.9 A
Part Number
Description
Price
USD
3F-12
Static Eraser Top-Fan
Get quote
Get quote - Special Order. Please e-mail or fax at 570.842.4290 for pricing.