Quick Search

CF-30
The Cross-Flow Fan
An ionizer with the best performance in its class.
Featuring excellent ion balance and the fastest static elimination
Newly developed: VESSEL ionizing blower with Cross-Flow Fan and capacity-coupled needle electrode units provide high-speed static removal.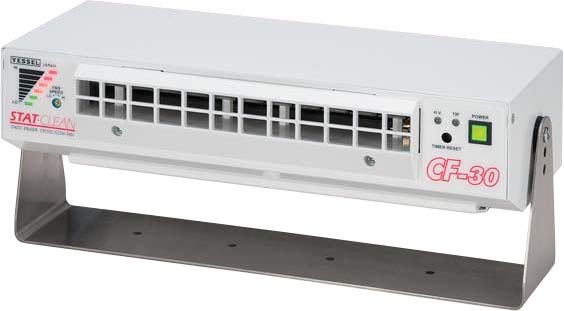 Fully-loaded with advanced features
Newly developed capacity-coupled electrode needles provide excellent ion balance and high-speed static elimination.
Highly reliable piezoelectric AC pulse system guarantees optimum ion balance.
Compact and space-saving design makes it perfect for attachment to cell production workbenches.
LED meter displays the operating fan speed, which can be fine-tuned by the continuously variable control screw.
Designed for maximum safety and ease of maintenance
Its low-voltage 24V DC power supply minimizes electrical leakage and interference with nearby devices.
An easy to attach and remove front cover. (The front cover is fixed to the unit with shipping screws prior to use.)
The unit automatically turns the power off when the front cover is removed.
The electrode needle unit can be detached together with its front cover allows for easier maintenance. This allows the user to clean the electrode needles without contaminating the work environment.
Warning LED indicator notifies you when the fan stops or abnormally high voltage is detected.
This unit incorporates an accumulative operation timer. It notifies the user for regular needle cleaning every 200 hours. (The timer function can be turned off.)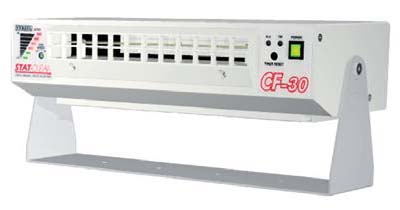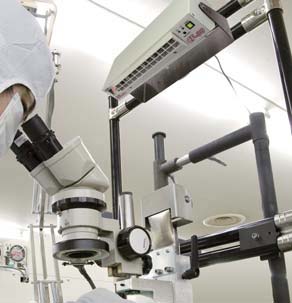 Installing CF-30 to the top of the cell production workbench to ensure a static-free work space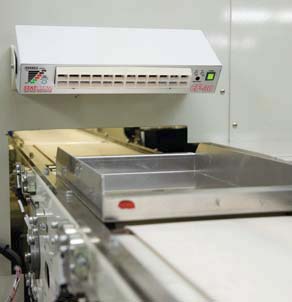 Installing CF-30 to the machinery to remove unwanted static charge from parts and work pieces in production.
Technical Specification
| | |
| --- | --- |
| Model | CF-30 |
| Ion generation method | High voltage DC corona discharge |
| Applied voltage | 3.5 kVAC |
| Input voltage | DC24V ± 5% 600 mA (max) |
| Dimensions | H130×W310×D150 mm : stand included |
| Weight | 2.1 kg |
| Fan speed | 1.583/min (at max. ariflow) |
| Noise emission | 51.2 dBA (measured 1 m from device at max. airflow) |
| Ozone generation | Less than 0.05ppm (Measured at 50mm) |
| Working ambient Temperature/humidity | 0 - 40 °C / 35 - 65%RH (No dewing/freezing) |
| Distance from target area | 150 - 900mm |
| Decay time | Please refer to the performance chart |
| Ion balance | Within ±5V (Measured before shipping, Measured distance: 300mm) |
| Alert warnings | High voltage stoppage(Red LED) Fan lock stoppage (All fan-speed LEDs blink) |
| Protective functions | Monitoring function against fan stoppage Automatic shutoff against abnormally high voltage Automatic shutoff when the front cover is removed Cleaning timer function |
| Accessories | Transformer AD24-ITCF |
| Replacement unit | Front cover w/electrode needles (CF-30H), Filter (CF-30F) |
Static erasing performance
Ion balance: Within ±5 V; Decay time: 1.4 sec or less
Static erasing area

Accessories
Power Supply Transformer


AD24-ITCF-EX

Input: 100 to 240 VAC, 1.2 A
Output: 24 VDC, 1.5A
Part Number
Description
Price
USD
CF-30
The Cross-Flow Fan
Get quote
Get quote - Special Order. Please e-mail or fax at 570.842.4290 for pricing.