Quick Search

G7
STATIC ERASER, Gun type
STATIC ELIMINATION ION / BEAM GUN
LIGHT WEIGHT
with LIGHT BEAM
High Power Ion Blow !
Unique Extra Advantage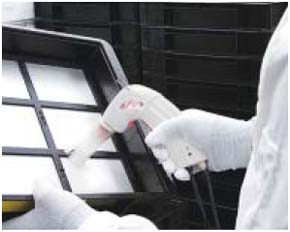 Simultaneous Brushing / Blowing in most efficiency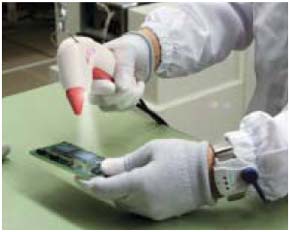 Check the small points with LED Beam Light.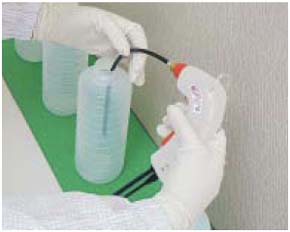 To connect with the Tube for Nallow and Limited Ion Blowing.
Easy Handling Design for Better Solution!
Ergonomic Handle(Grip Angle and Hand Glove Fitting.)
Could see the dust with the light LED Beam.
Resin Made Main Body, compact and Light weight.
Quick Connecting with 6mm dia Tube Air Inlet.
150,000 cycle tested Robotic Cable adopted.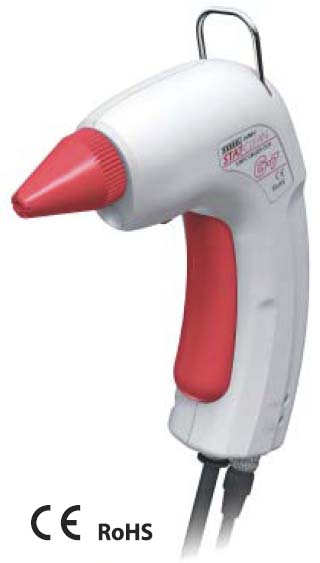 Exclusive Design for the Safety and Easy Maintenance !
Safe Design with Power Transformer built-in.
Quick Change of Discharge Needle for Easy Cleaning.
Warning Lamp lighted when Irregularity happened.
Low Noise disturbance won't affect any other electronic devices with surge function installed.
High Voltage Output area has the function of anti Short Break immediate after overloaded.
Technical Specification
INPUT VOLTAGE
DC24V ± 5%
POWER CONSUMPTION
74mA (typ.) (Lighting up state)
PERFORMANCE
Refer to the following
ION BALANCE
Within ±10V (Test value : at 0.3MPa and 150mm)
AIR PRESSURE
0.1~0.6MPa
DIMENSIONS
W105×H150×D36mm (Standard Nozzle Mounted)
WEIGHT
198g
POWER LED
Green Ø3×2
H.V. ALARM LED
Red Ø3×2
LIGHT
LED Ø5
MATERIAL
Casing,Trigger,Light Switch: ABS (Heat-resistant)
Needle Pole: Tungsten
Nozzle, Support Material: ABS (with glass fiber)
WORKING TEMPERATURE RANGE
5 ~ +35 °C / 35~65%RH (NO DEWING)
WORKING HUMIDITY RANGE
0 ~ +60 °C / 35~85%RH (NO DEWING)
TRANSFORMER
RATED INPUT VOLTAGE (AC100~240V (50~60Hz) 0.4V
RATED OUTPUT VOLTAGE: DC24V 0.75A
ROBOTIC CABLE
(AC Adapter): DC INPUT CABLE: 2.5m
AD24-ITC : AC OUTPUT CABLE: 1.8m
Part Number
Description
Price
USD
G7R-E
Static Elimination Ion / Beam Gun. Made in Japan.
AL-15-G7
Compressed Air Flex Line, 6mm OD / 4mm ID, Working lenghts 15' (~4.5m)
XMF-110
Micro Filter, 90-130 microns/120psi
XMF-110 /5
Micro Filter, 90-130 microns/120psi (pack 5 pcs)