Quick Search

F12E
STATIC ERASER, Fan type
Standard Powerful Ionizer
New Standard
Powerful static eraser blower that has both powerful static erasing capability and easy maintenance.
Features
A New concept round electrical discharge unit provides a highly accurate ion balance of ±5 V or less.
Highly reliable piezo alternating current will generate very little deterioration of the ion balance.
Compact design is perfectly suitable for cell production machines.
Adjustment dial provides step-less adjustment of the fan speed. Quiet 52 dB (At maximum fan speed)
Power lamp and warning LED lamp are located on top of the unit making it easy to see at a glance during operation.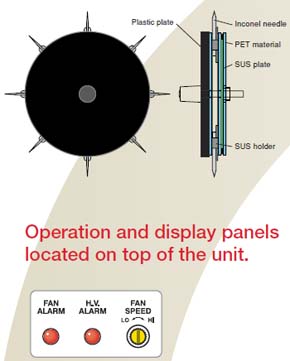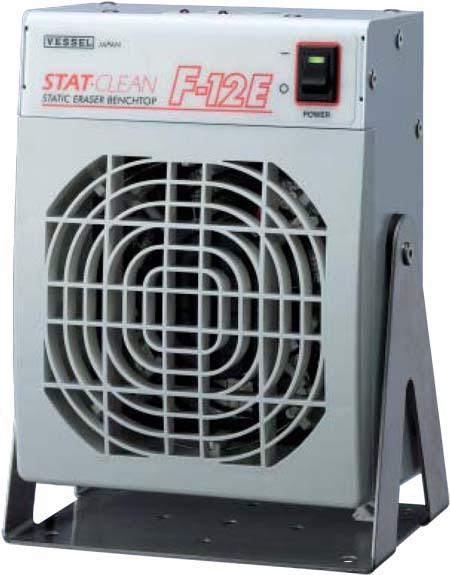 Pursuing safety and easy maintenance
Uses 24V low-voltage wiring to avoid current leaks or negative impact on peripheral components.
First in the industry. Electric discharge plate removal/attachment mechanism makes maintenance easier.
Front guard can be opened and closed with one touch. Comes with a limiter switch that turns off the power when opened.
Electric discharge design provides highly efficient ion generation with little ozone generation (0.05 ppm or less).
Comes with a fan rotation stoppage and high voltage abnormal warning LED.
Technical Specification
| | |
| --- | --- |
| Ion generation method | High voltage DC corona discharge |
| Output voltage | AC3.5kV |
| Input voltage | DC24V ± 5% 400mmA (TYP.) |
| Dimensions | H180×W142×D87 (H200×W151.5×D95 Includding stand) mm |
| Weight | 1.4kg |
| Fan speed | 2.9m3/min (Max. Fan Speed) |
| Noise emission | 52dB (A) Max. fan speed (Measured at 1m) |
| Ozone generation | 0.05ppm or less (Measured at 50mm) |
| Working ambient Temperature/humidity | 0 - 60 °C / 35 - 65%RH (No dewing) |
| Distance from target area | 150 - 900mm (Installation location: Non-dangerous indoor location) |
| Static electricity removal time | Reter to the items in the capabilities chart. |
| Ion balance | Within ±5V (At 300mm) |
| Accessories | Adapter No.AD24-IT-EX |
| Consumables | Wire plate : F-12EH Filter : F-12EF |
Static removal function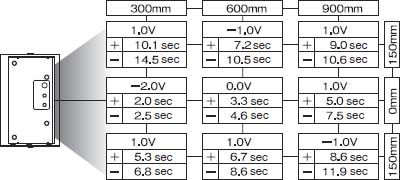 Part Number
Description
Price
USD
F12E
STATIC ERASER, Fan type
Get quote
Get quote - Special Order. Please e-mail or fax at 570.842.4290 for pricing.