Quick Search

EPS-01
ESD SOLUTION
WRIST STRAP Series
Static Electricity becomes today a substantial cause of the poor quality of Products discharged in the assembly procedures of mobile phones and digital cameras especially.
However by having installed Wrist Strap over your wrist around such static electricity will be grounded and no harm over the products on your working table.

This EPA marking is placed over VESSEL tool for safety. EPA stands for Electrostatic discharge Protected Area.
GROUND SENSOR

Detection poor contact and WARNING by this unique strap.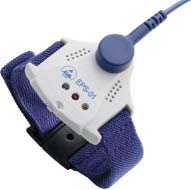 Features
Specially designed for Alarm function warned with Lighting and High Octave Sound with LED lighted when poorly contacted ground.
Easy synthetic band can be replaced quickly when it gets damaged (No.EPB-01 optional).
LED signals when the last 20% remain reached.
By having installed Trimmer to adjust the sensitivity, does not select the particular area of operation but secures accurate checking of contact situation.
Non-allergy stainless steel alienates poisoned nickel melted. High class stainless steel-SUS316L.

Highly recommendable to the users of clear target of working management rule and defect "0" directive.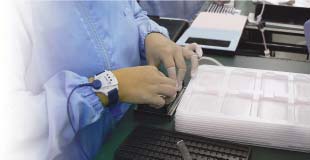 Being operated with poor contacting of the cable, the products turn as defective article with high electrostatic discharge without notice. Unique signal sending to the operator with light and sound when pin-jack forgotten to be plugged in or came off, poor contact to earth due to cable disconnection by sensing the poor contacting between human body and wrist strap.
Technical Specification
| | |
| --- | --- |
| Detection center | ABS Resin made |
| Metal Part | Stainless steel (SUS316L) |
| Band | Synthetic |
| Band Length | About 180mm |
| Weight | 980g |
| Resistance | Metal to Ground Cord About 2MΩ |
| Accessories | Ground Cord, Full Length 1.8m 1MΩ Currency Limit Resistor applied and Crocodile Clip |
| Battery | CR1220 Life : 8H/day × 500days or so. Or 15 Hours after you left it switched on "Beep". |