Quick Search

EPS-03S/03M
ESD SOLUTION
WRIST STRAP Series
Static Electricity becomes today a substantial cause of the poor quality of Products discharged in the assembly procedures of mobile phones and digital cameras especially.
However by having installed Wrist Strap over your wrist around such static electricity will be grounded and no harm over the products on your working table.

This EPA marking is placed over VESSEL tool for safety. EPA stands for Electrostatic discharge Protected Area.
GROUND SENSOR (METAL BAND)
EPS-03S
Small size
EPS-03M
Large size

Incorporates anti-dust measures. Ground sensor that can be used in clean rooms.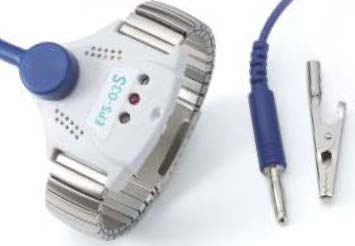 Features
Uses light and sound to warn of ground defects! Detects loose pin jacks, ground cord breaks, and contact problems with the human body.
Stretchable band fits the wrist. Two sizes S and M.
Sensitivity adjustment trimmer provides fine adjustment of the sensitivity for each work area.
Stainless steel is used for the metal pieces to support users with metal allergies.
Applications
Suitable as an onsite guide for controlling work and reducing defects.
Clean rooms
Technical Specification
| | |
| --- | --- |
| Product name | Ground Sensor (Metal Band) |
| Product No. | EPS-03M, EPS-03S |
| Size (band length) | M (167mm), S (132mm) |
| Resistance value | Approx. 2MΩ between the body and ground cord |
| Accessories | Ground cord (max. length: 1.8 m): 1, alligator clip: 1, CR1220 battery for test: 1 |