Quick Search

EPS-04
ESD SOLUTION
WRIST STRAP Series
Static Electricity becomes today a substantial cause of the poor quality of Products discharged in the assembly procedures of mobile phones and digital cameras especially.
However by having installed Wrist Strap over your wrist around such static electricity will be grounded and no harm over the products on your working table.

This EPA marking is placed over VESSEL tool for safety. EPA stands for Electrostatic discharge Protected Area.
GROUND SENSOR (METAL BAND)
STAT·CLEAN
EPS-04
e-BOX (20 sets included, economy package)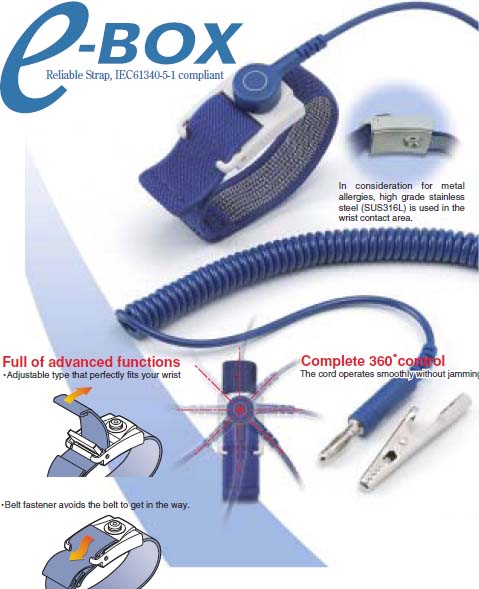 Technical Specification
| | |
| --- | --- |
| Model No. | No. EPS-04 |
| Main Unit | Polycarbonate |
| Metal Part | Stainless steel (SUS316L) |
| Band | Conductive fiber and cloth |
| Band Length | Approximately 200 mm |
| Resistance | 1MΩ or more between Main Unit and Ground Cord |
| Accessories | Ground Cord: 1.8 m 1MΩ Currency Limit Resistor applied and Crocodilian Clip |
Safety design
For safety measure of the high-voltage area within the EPA, the wrist strap is designed so that the conductive part is not exposed on the strap surface.
1MΩ currency limit resistor is built into the grounding cord.