Quick Search

POT-50C / 51C
LEAD-FREE SOLDER BATH

POT-50C / POT-51C SQUARE SOLDER BATH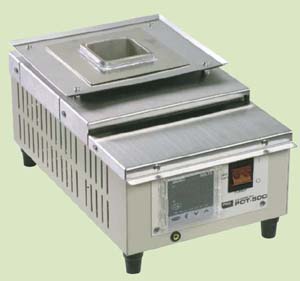 Accurate PID temperature control. User defined bath temperature regulation by switching to sensor feedback ON/OFF control.
Dual Digital display shows set temperature and measured temperature at the same time. Changing the temperature settings is easy!
Bath size (50X50mm) perfect for transformer leads preparatory solder and solder application dipping of small PCBs.
Temperature setting range from ambient temperature to 530°C
Computer assisted settings management and temperature data storage. (Software Optional)
Solder waste tray can be placed at three locations. Comes with spatula for removing waste solder.
Fitted with extra long life ceramic heater.
Tamper-proof and reliable temperature management through Keypad lock function. œ Easy maintenance! Changing the solder bath or heater is simple.
Lowest possible housing temperature for user safety.
Technical Specification
Model number

POT-50C

POT-51C
Input Voltage

110—130, 220—240V AC 50/60Hz

Power Consumption

470-610W, 370-430W (When Stabilized)

Inrush Current

25A, 11A (at solder temp. 25°C)

Solder Bath Temperature

Ambient Temp.—530°C

Unit Dimensions

174(W) X 285(D) X 142(H)mm

Solder Bath Dimensions (internal)

50(W) X 50(D) X 50(H)mm

Weight
Approx. 3kg
Max Solder Volume
Approx. 850g
Solder Bath Material
Stainless Steel SUS316
Ceramic
Power Cord
Length1.5m (3 core cable) with ground plug
Solder Bars, Chunks and Pure Wire
SN100C is a lead-free solder alloy developed by Nihon Superior in Japan that is comprised of tin, copper, and a small amount of nickel
SAC305 is a lead-free alloy that contains 96.5 % tin, 3% silver, and 0.5% copper.
Sn63/Pb37 Solder
Part Number
Description
Price
USD
Lead-Free Solder Bath
POT-50C /12
Lead-Free Solder Bath , 110-120V AC
POT-50C /22
Lead-Free Solder Bath , 220-240V AC
POT-51C /12
Lead-Free Solder Bath, 110-120V AC
POT-51C /22
Lead-Free Solder Bath, 220-240V AC
Bar Solder
B-SAC-1b
SAC305 Lead Free Bar Solder, bar dimension 13" x 1" side Triangle, 1 bar, 2.5 lb
B-SAC-10b
SAC305 Lead Free Bar Solder, bar dimension 13" x 1" side Triangle, 10 bars, 25 lb
B-SN100-0.5b
SN-100 Lead Free Bar Solder, bar dimension 13" x 1" side Triangle, 0.5 bar, 1.25 lb