Quick Search

RX-802AS
THE ULTIMATE SOLUTION FOR
LEAD FREE

SOLDERING!
| | | |
| --- | --- | --- |
| Soldering SuperStation for Lead Free | | |
Lead-free Applicable TEMPERATURE CONTROLLED

SOLDERING STATION

Extra long life, fast recovery time, lead-free soldering iron with built-in high output heater (72W) RX-802AS
| | |
| --- | --- |
| RX-802AS | Comes equipped with standard soldering tip and special stand |
Excellent Heat Recovery (Patent Pending)
Compact, high output heater (72W), integrated into tip, controlled by high sensitivity sensor. Even during continuous operation the tip temperature remains stable with minimal heat loss. Perfect for working with high melting point lead-free solders.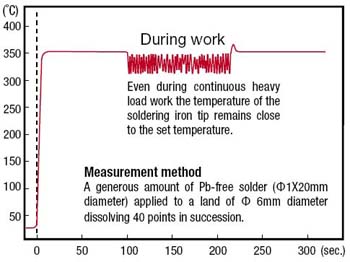 New Ergonomic Design Hand-piece (Patent Pending)
Comfortable usability, easy handling, soft power cord. Shorter distance from grip to tip! Perfect for micro soldering.
Fastest in its class (Patent Pending)
Reaches Set Temperature in 6 seconds!
Easy-change tip (Patent Pending)
Slide-change tip. No tools or heat resistant pads needed.
Thick iron alloy coating for lead-free soldering
Complete lineup of tips with thick iron alloy coating to prevent erosion.
Anti-oxidation tip (Patent Pending)
New addition! Fine solder coated grooves protect tip from atmospheric oxidation.
Low Heat Hand-piece (Patent Pending)
Completely new design thermal insulation hand-piece construction reduces heat transfer to the grip. Lowest possible hand-piece heat in its class. (Based on goot® measurement methods)
Lower prices!
Built-in heater replacement tips now available at surprisingly low cost!
Keypad lock function (Patent Pending)
Tamper-proof keypad lock. No need for tools to secure the keypad cover as on previous models.
Sleep function (Patent Pending)
Automatic switch off when inactive for a preset period of time, preventing any overheating.
Calibration function (Patent Pending)
Differences between tip thermometer and displayed temperature are easily corrected by inputting the offset value.
Easy maintenance
Maintenance and tip replacement is simple with integrated tip, sensor and heater.
Reliable traceability
We can provide periodic calibration of the unit if required and issue certification necessary for various purposes (Fees apply).
Technical Specification
Model number
RX-802AS
Input Voltage
110—130, 220—240V AC
Power Consumption
80W
Soldering Unit Voltage / Consumption
24V AC / 70W
Temp. Setting Range
Ambient Temp.—450°C
Temperature Display
Digital
Dimensions
Soldering Iron
158mm (Excluding Cord Armor)
Control Unit
146(L) X 115(W) X 98(H)mm
Weight
Soldering Iron
Approx. 25g (Excluding Cord)
Control Unit
Approx. 1.8kg (Excluding Cord)
Leak Voltage
Less than 2mV
Ground Resistance
Less than 1Ω
Control Unit to Soldering Iron Cord Length
1.2m
Power Cord Length
1.3m (3 core cable, ground plug)
Accessories
Soldering Iron Stand, Standard Soldering Tip
Replacement Tip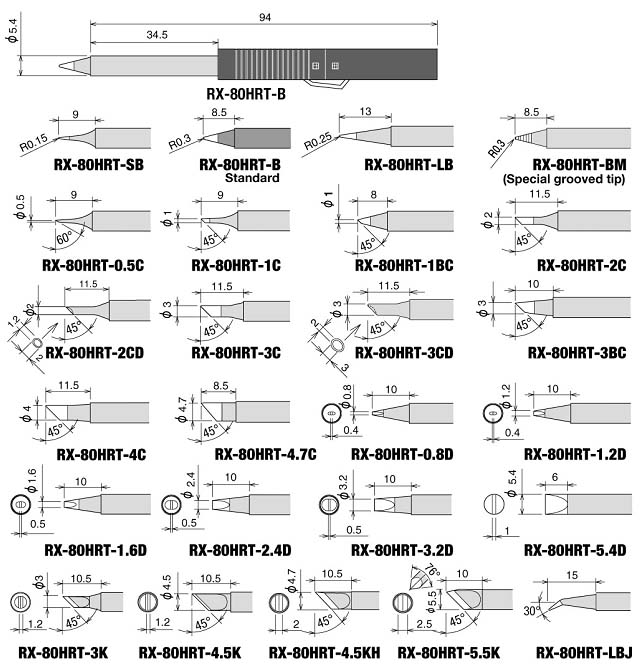 How to change the Soldering Iron Tip
To remove the soldering iron tip, slide the lever in the direction of the arrow. The tip will then protrude from the hand-piece and can be removed easily by holding and pulling the plastic body of the integrated tip/heater.

RX-EA1 Fume Extraction Attachment for RX-80GAS Iron
| | |
| --- | --- |
| | RX-EA1 Fume extraction Attachment has been developed to remove toxic fume from tip area during soldering. The attachment consists of the extraction stainless steel tube, front modified ring and flexible tube with 5 holders to attach soldering wire cord. It takes only 2 minutes to attach RX-EA1 to the iron. The tube ID is 5 mm to make the extraction effective with common tip fume extraction units like XTRACTOR XF-10 ro XF-VT2 High Vacuum Units. |
ST-40 Tip Cleaner
| | |
| --- | --- |
| | The cleaner itself is made from low-abrasive brass shavings. No water is required to use the tip cleaner, although it cleans the tip better than conventional sponges and reduces the temperature-loss that occurs when using a wetted sponge. The container is made of heat-resistant and slip-proof silicon rubber that is safe for both the soldering iron and the user. |
| | ST-40BW - Replacement metal wool balls |
| | BS-2 Tip Cleaner/Refresher |
More documents about RX-802AS:
24-May-2005
Lead-free solders vs. Conventional Eutectic solders
| | | |
| --- | --- | --- |
| Solders | Solid-phase temperature (°C) | Liquid-phase temperature (°C) |
| Conventional Eutectic Solder | | |
| Sn 60% Pb 40% | 183 | 190 |
| Sn 63% PB 37% | 183 | 184 |
| Lead-free solder | | |
| Sn-Ag 3.5 - Cu 0.7 | 217 | 218 |
| Sn-Ag 2.5 - Cu 0.5 - Bi 1.0 | 214 | 223 |
| Difference between Temperatures | 34 | 34 |
Using Lead-free solder
Lead-free solder's melting point is 34 degrees higher than conventional solder.

Extra heat is required to bring lead-free solder to liquid phase.

Effect on soldering iron tips - shorter tip life.
Points to Note when using lead-free solder
Use of lowest possible temperatures to minimizing the tip damage
However, when using lower operating temperatures with lead-free solder which has a higher melting point, operational efficiency will decrease.
Keeping tip temperature stable during work to increase productivity and improve solder joint reliability
However, continuous use of a soldering iron over long periods brings the temperature of the tip down, and effects the quality of the finished solder joint.
Practical Points: Key elements for longer tip life
3.1 Tip temperature
Tips used at 320 degree-Celsius last three times longer than that of tips used at 380 degree-Celsius-tips.
3.2 Solder Type
For any normal solder joint, three times more Lead-free solder is required compared to eutectic solder - therefore choice and price of solder is important.
3.3 Amount of solder used in each solder joint
Cored thread solder wire has flux in the core of the solder wire. The types of flux used in current lead-free solders is especially ACTIVE in order to assist solder wettability.
Therefore, using MORE of a solder wire with MORE active flux, commensurately decreases tip life.
Merits of goot RX-802AS
Superior heat recovery
Built-in high-powered heater (72W) capable of delivering enough power to maintain stable tip temperatures, even under different soldering work conditions. Minimal heat loss means the user doesn't have to set the station at a higher set temperature. Capable of being set at lower temperatures, therefore decreasing tip degeneration when soldering with high melting point lead-free solder.
Thick iron coating
All RX-80HRT tips have a thick iron coating. For example, the thickness of the B-type iron coating is 0.5 mm or above, while the thickness of tips in competitor irons are between 0.25mm and 0.3mm. More thickness assures longer tip life. The following test report backs up this fact.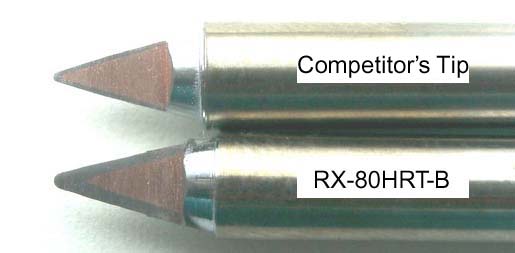 Result of tips life test
| | | | | | |
| --- | --- | --- | --- | --- | --- |
| | 300°C | 350°C | 400°C | 450°C | |
| RX-80HRT-B | 141372 | 66,780 | — | 9,648 | Japan Domestic Retail Price: 1400JPN |
| Competitor's Tip | — | 35,208 | — | — | Japan Domestic Retail Price: 1440JPN |
While continuously supplying lead-free solder to the tip, measured time taken till a hole appeared in the tip surface.
Solder used : Senjyu M705 dia. 1.0
Amount of Solder used : 5mm of solder supplied per interval, 5 seconds intervals
Fastest in its class
Reaches tip temperature in 6 seconds. (Equivalent products amongst competitors take an average of 15 seconds)
Superior sleep function (Patented)
Automatic switch off when inactive for a preset period of time. This is easier on the tips than switching the unit OFF. This unit's sleep function can be programmed to activate at preferred inactive time periods, or can be programmed to go into sleep mode at a certain drop in tip temperature, therefore applicable to a variety of work conditions. (Competitor stations have one set mode only.) Further, before sleep mode activates, the sleep lamp flashes, warning the user that the the unit is about to enter sleep mode.
Light and compact handpiece
The soldering iron weighs 27g, the lightest in the 70W station class. (Competitor models weigh 30g.) The soldering unit cord is designed with a thin and very pliable cable with the diameter 4.0. (Competitor cable diameter - 4.6.)

RX-802AS Handpiece compared to competitors:
It is neglected point but, the biggest selling point of the RX-802AS is that the whole iron length of the handpiece is shorter than competitor irons. It is not enough that the distance between tip and handpiece be short. Pulling force from the cable is applied to the tip evertime the iron is moved. This has adverse effects for operation. Lessening this force is important. Shorter iron length makes this force smaller.
Easy-change tip
One-Step-Slide tip can be changed while the tips remain hot.

RX-802AS Replacement tips compared to competitors:
6.1. No tools needed for changing the tip, also no heat-resistance pads!

6.2. Tips can be stored in the RX-802AS soldering iron stand which comes with the unit. The user must purchase separately with some competitor stations

6.3. The tips are designed NOT to come in contact with the surface when placed on a workbench.
Standard tip included with the station
Standard tip is included with this unit. This is not offered with competitor's stations.
Part Number
Description
Price
USD
Super-Iron Lead Free RX-802AS
RX-802AS /12
Lead-free Applicable Temperature Controlled Super-Soldering Station, Superior over competition on 12 counts , 110-130V AC

| | | |
| --- | --- | --- |
| Qty | 1 - 9 | 10 + |
| Price | $349.90 | $329.90 |

RX-802AS /22
Lead-free Applicable Temperature Controlled Super-Soldering Station, Superior over competition on 12 counts , 220-240V AC

| | | |
| --- | --- | --- |
| Qty | 1 - 9 | 10 + |
| Price | $369.90 | $349.90 |

Optional accessories
BS-2
Tip Cleaner/Refresher
RX-80GAS-without tip
RX-802 Replacement Iron Handpiece without the cartridge tip
RX-EA1
Fume Extraction Attachment for RX-80GAS Iron

| | | | |
| --- | --- | --- | --- |
| Qty | 1 - 9 | 10 - 99 | 100 + |
| Price | $49.90 | $47.90 | $39.90 |

ST-40
Dry Tip Cleaner w/Metal Coil
ST-40BW
Replacement metal wool balls for ST-40

| | | |
| --- | --- | --- |
| Qty | 1 - 49 | 50 + |
| Price | $5.49 | $5.29 |

ST-53SP-5
Replacement Sponge ST-53-5 - 5 pcs
RX-80HRT Tips
RX-80HRT-SB
Replacement Tip
RX-80HRT-B
Replacement Tip
RX-80HRT-LB
Replacement Tip
RX-80HRT-BM
Replacement Tip
RX-80HRT-0.5C
Replacement Tip
RX-80HRT-1C
Replacement Tip
RX-80HRT-1BC
Replacement Tip
RX-80HRT-2C
Replacement Tip
RX-80HRT-2CD
Replacement Tip
RX-80HRT-3C
Replacement Tip
RX-80HRT-3CD
Replacement Tip
RX-80HRT-3BC
Replacement Tip
RX-80HRT-4C
Replacement Tip
RX-80HRT-4.7C
Replacement Tip
RX-80HRT-0.8D
Replacement Tip
RX-80HRT-1.2D
Replacement Tip
RX-80HRT-1.6D
Replacement Tip
RX-80HRT-2.4D
Replacement Tip
RX-80HRT-3.2D
Replacement Tip
RX-80HRT-5.4D
Replacement Tip
RX-80HRT-3K
Replacement Tip
RX-80HRT-4.5K
Replacement Tip
RX-80HRT-4.5KH
Replacement Tip
RX-80HRT-5.5K
Replacement Tip
RX-80HRT-LBJ
Replacement Tip