Quick Search

SDJ-08S
Static Electricity Eraser Mini-Fan type, Clipped
SDJ-08S
When static electricity generates on a parts tray or workbench in the manufacture or assembly of electronic parts, the electronic parts may be destroyed by the static electricity.
Apply most efficient Ionized air blow toward parts placed on the working table.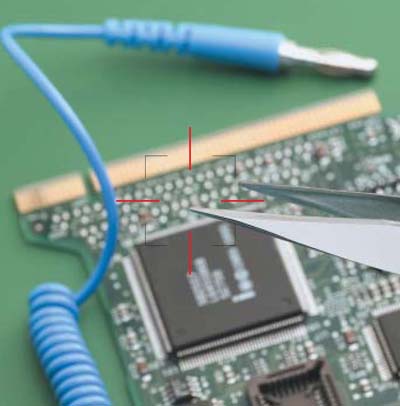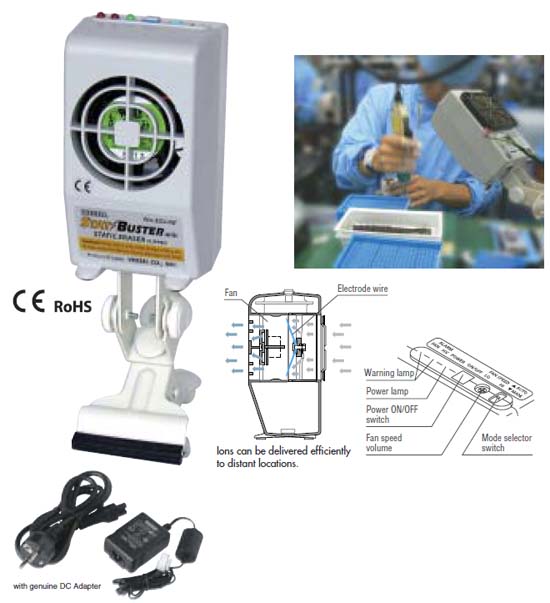 In cell production sites, many parts are placed around the workbench, therefore a large unit would be a stumbling block to smooth operation. The SDJ-08S can be installed on the workbench or bracing pole using the attached clip, leading the space-savings. Also, it uses a highly reliable voltage transformer to keep ion balance within ±10 V.
Features
Small and lightweight resin body weighs only 300g.
Using the attached clip, the unit is easily installed, and the blow direction and angle can be adjusted.
By detaching the clip, the SDJ-08S can be installed on an automatic adjuster or set on a desk top.
The discharge wire is located near to the point where the fanned air moves at the fastest speed so that ions can be effectively transferred far and wide.
The SDJ-08S is equipped with a warning alarm and external output terminal that transmits troubles like high voltage or fan stoppage.
Unique 100 hour accumulative timer (blinking power source lamp) to indicate and signal the workers for the necessity of Cleaning over Discharge Needles.
Applications
Removal for electronic device manufacture and assembly, test and manufacture equipment, Static electricity removal during film separation and packaging products, Removal in feeders for compact-size parts and inside equipment, Static electricity removal in mold opening of machines, Preventing dust adherence for cameras, watches, lenses etc, Removal during container processing, product conveyance and filling up, Ideal for static elimination over the packs and containers for foods, cosmetic and medicine process and its transfer procedures and each toll gate of its installation including dust-off.
Technical Specification
| | |
| --- | --- |
| INPUT VOLTAGE | DC24V±5% |
| POWER CONSUMPTION | 250mA (max.) |
| OZONE PRODUCTION | HIGH VOLTAGE AC CORONA DISCHARGE |
| OUTPUT VOLTAGE | AC 3.5KV |
| AIR FLOW | 0.8 m3/min (max) |
| WORKING TEMPERATURE RANGE | 5 ~ 40 °C |
| WORKING HUMIDITY RANGE | 20 ~ 80%RH |
| DIMENSIONS | H132.5×W73×D73.5mm (excluding clip) |
| WEIGHT | 320g (excluding clip} (clip: 160g) |
| ACCESSORY | AD24-IT-EX ADAPTER |
| STATIC CHARGE DECAY-TIME | <2.5 sec. (±1000V→±100V, measured at 300mm in the front of unit at maximum air flow) |
| ION BALANCE RANGE | 0V ±10V (measured at 300mm in the front of unit at maximum air flow) |
| OZONE PRODUCTION | <0.007ppm (measured at 300mm in the front of unit at maximum air flow) |
Static erasing performance
Ion balance: Within ±10 V; Decay time: 3.2 sec or less
Static erasing area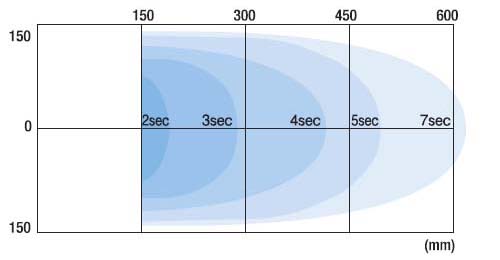 Accessories
Power Supply Transformer


AD24-IT-EX

Input: 100 to 240 VAC, 0.4 A
Output: 24 VDC, 0.75A
Part Number
Description
Price
USD
SDJ-08S
Static Electricity Eraser Clipped
Get quote
Get quote - Special Order. Please e-mail or fax at 570.842.4290 for pricing.