Quick Search

SDJ-14
STATIC ERASER, Fan type
SDJ-14 EU
(AC200V-240V)
SDJ-14 JPN
(AC90V-128V)
Wide Fan Type (Windless Available on Application)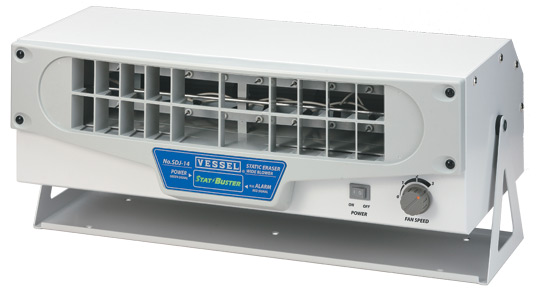 A Wide Electricity Removing Area
The front cover was designed taking into consideration the large amount of air blow by the cross-flow fan and the ion flow and provides a wide electricity removing area (600mm x 1200mm).
Fast Static Elimination
Powerful removal of electricity employing high voltage DC corona discharge. The needle electrode employs a multiple needle construction having 8 positive and negative needles each. The generation of many ions makes it difficult to collapse the ion balance.
Applications
Protection from dust collection, black stained.
In advance of Silk Printing process, Static elimination and Dusting out. Static Bustering and Dust Blowing over the Printcard.

Food containers and Cups, to prevent from non-stacking and poor printing.
Also avoiding static charging in various Films large sized LCD module.

Static elimination of Auto Bumper, Dashboard, Head Lamps, such large plastic moulded parts, and also for the procedures in prior to pre-painting and pre-coating.
Installed together with machines of Cutting and Shredding and or Paper and Plastic bags.
Technical Specification
Part Number
SDJ-14JPN
SDJ-14EU
Ion generation method
High voltage DC corona discharge (8 positive and negative needles each.)
Applicable Standards
PSE (Japan Product Safety Electrical Application and Materials)
CE (EN61010-1, EN61000-6-4, 3-2, 3-3, 6-2), RoHS
Input voltage
AC 90-128V
AC 200-240V
Power consumption
150mA
Output voltage
±6.5 kV
Maximum air flow
3.3 m3/min (measured at 300mm in the front of unit)
Working temperature range / Working humidity range
+5~+40°C / 35~65%RH (no dewing or freezing)
Dimension
H225XW517XD260mm (with a stand)
Weight
8.5 kg
10.5 kg
Static Eliminating Time
Check at Capacity Table of Static Elimination as shown below.
Ion balance
within ± 30V (within ± 10V before shipping)
Distance from target area
Approx. 300~1200mm
Ozone generation
Less than 0.05ppm (Measured at 50mm in the front of unit)
Power cord length
1.8m
Optional Separately Sold Part
Discharge Needle: SDJ-05RH (Stainless Steel)
Filter: SDJ-14F
| | |
| --- | --- |
| Static Electricity Removal Capability | Electricity Removal Area |
Measure with TREK Model 158 (120x150mm 20pF) is used to measure the charge potential dampening time and the ion balance.
Top: Ion balance
Middle: Dampening time from +1000V to +100V
Bottom: Dampening time from -1000V to -100V
Specified 300m, 600mm, 900mm, 1200mm indicates the distance from Static Eraser to charge plate monitor.
0mm, 150mm, 300 indicates air blow width left and right.
Air Flow: Max, Temperature: 25 °C, Humidity: 50%
Part Number
Description
Price
USD
SDJ-14 E
Static Eraser, Fan Type , 220-240V
Get quote
SDJ-14 U
Static Eraser, Fan Type , 96-128V
Get quote
Get quote - Special Order. Please e-mail or fax at 570.842.4290 for pricing.