Quick Search

SDJ-03R
Static Electricity Eraser Unit
SDJ-03R
During work handling, the film insert laminate is repeatedly contacted and detached by the pickup causing electrical charge to accumulate on the film.
Pin-pointed Ion blow to be effectively static-eliminated.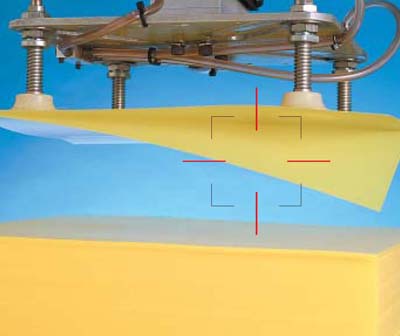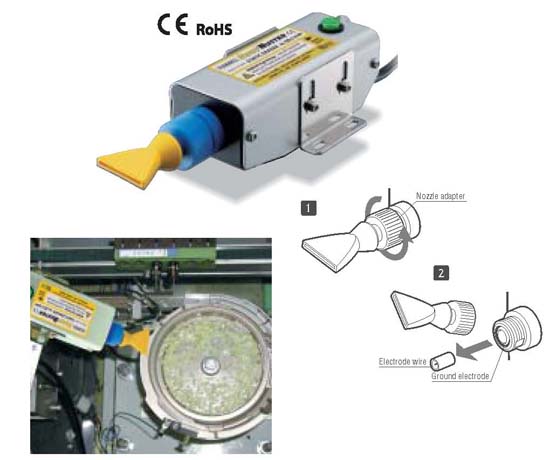 The SDJ-03R can blow ionized air across a wide area with the flared nozzle. Small and lightweight, the entire unit can be installed near a stocker, grinder, parts feeder or mold so that you can securely remove static electricity from targeted points. In addition, the SDJ-03R is equipped with height-adjustable fittings and the nozzle can be angled as you like. Therefore, air blow can be easily fine-adjusted to contact a specific point.
Features
The flared nozzle can blow across a wide area.
Designed for safety with built-in discharge parts, high-voltage cable and high-voltage build-up parts.
Uses a 24V DC power supply for safety.
Products of stable quality can be manufactured by keeping dust and dirt away.
Easy one-touch replacement of the electrode wire unit.
Applications
Elimination of Resin Pellets static charged, Charge Elimination inside of Hopper container. Static Charged Stocker and moulded articles, Plastic material Crusher static, Static elimination at the film stacked transfer, IC printcard, Lens assembly line, Vaporized and painted Fore-process, parts feeder stuck due to its static accumulation, other static troubles, etc.
Technical Specification
| | |
| --- | --- |
| INPUT VOLTAGE | DC24V±10% |
| POWER CONSUMPTION | 80mA |
| OZONE PRODUCTION | HIGH VOLTAGE AC CORONA DISCHARGE |
| OUTPUT VOLTAGE | AC 3.0KV |
| AIR PRESSURE | 0.1 ~ 0.3MPa (Use clean air 0.2MPa recommended) |
| AIR HOSE | Ø6 × Ø4mm |
| AIR CONSUMPTION | 170 l/min (0.2MPa recommended) |
| WORKING TEMPERATURE RANGE | 0 ~ +50 °C |
| WORKING HUMIDITY RANGE | 35 ~ 65%RH |
| DIMENSIONS | L154.5×W43.6×H36.5mm (Excluding projection and tube) |
| WEIGHT | 250g |
| ACCESSORY | Mounting screw (4pcs) w/washer M3×8mm |
| STATIC CHARGE DECAY-TIME | <1sec (±1000V→±100V,measured at 150mm from the nozzle at 0.2 MPa) |
| ION BALANCE RANGE | 0V ±30V (measured at 150mm from the nozzle at 0.2 MPa) |
| OZONE PRODUCTION | <0.03 ppm (measured at 300mm from the nozzle) |